Mogami 2964 BNC to RCA SPDIF 75 Ohm High Definition Cable
Regular price
Sale price
€29.00 EUR
Unit price
per
Sale
Sold out
Mogami W2964 75 Ohms Coax Cable made with Mogami Tajimi BNC Push Pull Connectors (Solder Type) & Gold Plated Switchcraft Connectors.
Mogami 2964 is a superflexible subminiature coaxial cable that cannot be found in MIL, JIS and other popular worldwide standards.

There are lots of cases where those standard cables will not do the job.

MOGAMI superflexible subminiature coaxial cables were originally made for custom applications, and remained in production thereafter, finding many applications all over the world.
About Mogami Tajimi BNC Connectors:
It is our pleasure to be able to provide our customers with REAL "ONE TOUCH PUSH-PULL BNC Connector" by TAJIMI specifically designed for MOGAMI P/N W3200 & W2964 cables. This very innovative and handy BNC's can be combined with varied cables from single 50Ω 75Ω coaxial cables in five colours up to complexed five core RGB cables. Not only available in raw cables and connectors independently as well as standard length cable assemblies, but also custom length with various connector combinations are made to order.
Quick and reliable ONE TOUCH LOCK " PUSH-PULL" connection suitable for dense panel, fast installation and frequent connection and removal.
Equivalent connection strength to conventional BNC, realized by innovative rotary mechanism.
Durable 75Ω BNC against gouge strength, reinforced by newly developed open part of the shield contact structure and the fixed structure of the center pin terminal.
Reliable high frequency characteristics with MOGAMI standard superflexible light weight cable assured for 1.2 V.S.W.R. up to 1GHz and acceptable to be bent up to 10mm (0.4") as the minimum radius of curvature.
Both solder type and crimp type are available. However, we basically recommend solder type for field use because strength of cable clamp becomes too weak in case of crimp type resulted by the very feature of flexiblity of MOGAMI cable. We can assure the cable retention strength only up to 98 N in case of crimp type, while up to 147 N can be assured in case of solder type. Therefore, all of our standard cable assemblies are made of solder type.
Share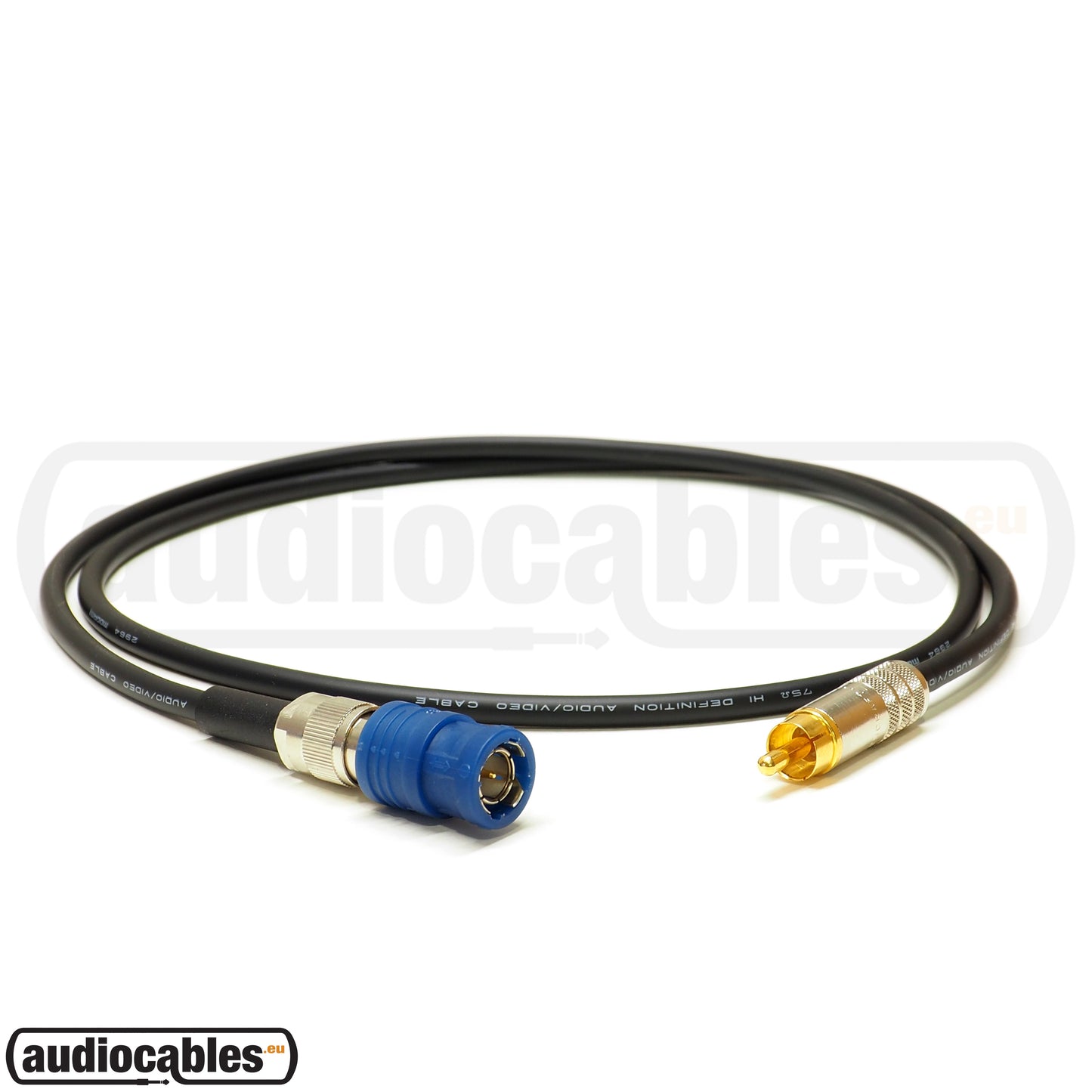 Important Info for Taxes, Vat Exempt, Shipping, Customs, International Orders, etc.

Important Notes For The Cables We Build:

1) Length of the cables we build is measured from solder point to solder point. This is about at the middle of the connectors. Keep this in mind when ordering small length cables, so you'll make the right choice.

2) Most cables are build to order, so please allow some time for accurate & precise workmanship!

3) If you don't find the length or the combination of connectors you need, contact us & we will build your custom cable!